Vaibhav S. - Law School Grad, Experienced Calculus, SAT and Physics tutor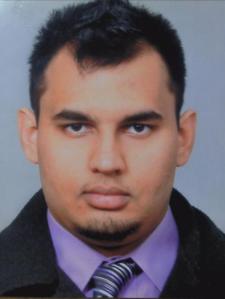 $41 / hr
New York, NY
5 miles Travel Radius

Online
I work as an IP law clerk in NY. I am a graduate of Rutgers who majored in Physics and Mathematics. I graduated from Emory Law School and specialized in intellectual property law.

I have over 5 years of tutoring experience. I have also been a teacher at the Center For Talented Youth, through John Hopkins University, teaching rising 8th graders and high school students mathematical modeling.

I have tutored at the college-level at the Rutgers Learning Resource Center and have privately tut...
Reviews
Vaibhav is very polite and flexible. Vaibhav tries his best to adjust his schedule as per your requirement. His teaching is good and very patient with the student. He is good in Geometry and Physics.
- Sreenivasa D. from Dayton, NJ
Vaibhav was amazing in teaching the concepts dealing with Calculus BC. He was able to explain the topics in a way that high school students can comprehend. Highly recommend him!
- Raashi K. from Philadelphia, PA
We were very lucky to find Vibhav for my SON to teach him Maths. He was very patient with my son and great Motivator. He also helped my son to make him understand the formulas and definition properly to understand the concepts of the maths, because of Viabhav's education style and he was very patient with my son he made a really great progress in MATHS. We are all very thankful to Vaibhav.
- Anil G. from Edison, NJ
He is very good teacher. He always helps over the phone if I have any questions. I am very satisfied with his teaching.
- NEENA K. from Metuchen, NJ
Comes well prepared with books and writing materials. Teaches a wide variety of subjects ranging from SAT English to AP Calculus. Has flexible timings and probably the best tutor ever!
- Jyothi A. from Edison, NJ
Prepared me for my Calc II exam, taught me the underlying principles behind each concept and/or theory. Very helpful, patient and fun. Highly recommended.
- Ryan G. from Englishtown, NJ
Vaibhav is an amazing tutor. He is extremely patient and will not move on until you understand the basic material.
- Vinay P. from Piscataway, NJ
Vaibhav is reliable, patient, relates well to students and explains questions and concepts thoroughly. Vaibhav provides multiple ways of looking at problems. He keeps my child on track!
- Mary B. from Westfield, NJ
It was a pleasure to work with Vaibhav this semester for my Calculus II class at Rutgers. He knew all of the material right away and provided new, creative ways to think of concepts and learn the material. He went above and beyond our meeting times by providing me with extra materials to take home and practice what we learned during our lesson. I highly recommend him as a tutor.
- Mary F. from New Brunswick, NJ
Vaibhav tutors my 2 kids - 9th and 8th grade. He has been their tutor for over a year now. He is really good. He takes a real interest in ensuring that the kids understand the concepts. He is very good at making complex things easy for them to understand. He is very patient and has no problem answering their questions. Their grades have certainly improved a lot thanks to his efforts. Vaibhav is also very reliable. He has never missed a class as of yet and is also on time. He is easily contactable if we need to since he responds to text messages. Overall, I would rate him a 5 star.
- Ashok and Manjusha P. from Edison, NJ
Vaibhav helped me with Calculus I, and did a great job! Willing to work with your schedule, and always patient and fun.
- Heather H. from New Brunswick, NJ
Vaibhav is an outstanding tutor. I had him help me with study skills and writing research work. He is very patient and his extensive experience is evident when he teaches. He made difficult academic research papers easier to understand through examples and analogy. I have done extremely well on my research paper that I worked with him on (my last grade was a 96/100 and I only lost a few points for minor format mistakes.) He is extremely accommodating with his schedule and goes above and beyond. He worked with me last minute to review my paper in on time just so I could meet my deadline. He came prepared by reading the articles in advance and taking his own notes so I could make the most of my time with him. I couldn't ask for a better tutor! Thanks Vaibhav!
- Julissa L. from Perth Amboy, NJ
Search More Tutors in the Stanford Area